Product Description
Item
Leaf Chains
Application
Machinery Parts
Surface Teatment
Self-color/Sand-blasted/Shot-peening
Brand
OEM
Package
Poly bag, then box, finally poly-wooden case
Port
Any sea port or airport in China
Size
LH:
LH0822,LH0823,LH571,LH0844,LH0846,LH0866,LH 0571 ,LH1571,LH1571,LH1034,LH1044,
LH1046,LH1066,LH1088,LH1222,LH1223,LH1234,LH1244,LH1246,LH1266,LH1288,LH1622,
LH1623,LH1634,LH1644,LH1646,LH1666,LH1688,LH2571,LH2571,LH2034,LH2044,LH2046,
LH2066,LH2088,LH2422,LH2423,LH2434,LH2444,LH2446,LH2466,LH2488,LH2822,LH2823,
LH2834,LH2844,LH2846,LH2866,LH2888,LH3222,LH3223,LH3234,LH3244,LH3246,LH3266,
LH3288,LH4571,LH4571,LH4034,LH4044,LH4046,LH4066,LH4088
BL:
BL422,BL423,BL434,BL444,BL446,BL488,BL522,BL523,BL534,BL544,BL546,BL566,BL588,
BL622,BL623,BL634,BL644,BL646,BL688,BL822,BL823,BL834,BL844,BL846,BL866,BL888,
BL1571,BL1571,BL1034,BL1044,BL1046,BL1088,BL1222,BL1223,BL1234,BL1244,BL1246,
BL1266,BL1288,BL1422,BL1423,BL1434,BL1444,BL1446,BL1488,BL1622,BL1623,BL1634,
BL1644,BL1646,BL1666,BL1888,BL2571,BL2571,BL2034,BL2044,BL2046,BL2088
LL:
LL0622,LL0644,LL0666,LL0822,LL0844,LL0866,LL 0571 ,LL1571,LL1044,LL1066,LL1088,LL1222
LL1244,LL1266,LL1288,LL1622,LL1644,LL1666,LL1688,LL2571,LL2044,LL2066,LL2088,LL2422
LL2444,LL2466,LL2488,LL2822,LL2844,LL2866,LL2888,LL3222,LL3244,LL3266,LL3288,LL4571
LL4044,LL4066,LL4088,LL4822,LL4844,LL4866,LL4888
AL:
AL322,AL344,AL422,AL444,AL466,AL522,AL534,AL544,AL566,AL622,AL644,AL666,AL688
AL822,AL844,AL866,AL888,AL1571,AL1044,AL1066,AL1088,AL1222,AL1244,AL1266,AL1288,
AL1444,AL1466,AL1644,AL1666,AL1688
FL:
FL644,FL666,FL688,FL523,FL844,FL922,FL944,FL945,FL956,FL966,FL988
| | |
| --- | --- |
| Material: | Iron |
| Structure: | Leaf Chain |
| Surface Treatment: | Polishing |
| Chain Size: | P9.525-P76.20 |
| Feature: | Fire Resistant, Oil Resistant, Heat Resistant |
| Transport Package: | Poly Bag, Box, Poly-Wooden Case |
Samples:

US$ 10/Several Links

1 Several Links(Min.Order)

|
Request Sample
Customization:

Available

|

Customized Request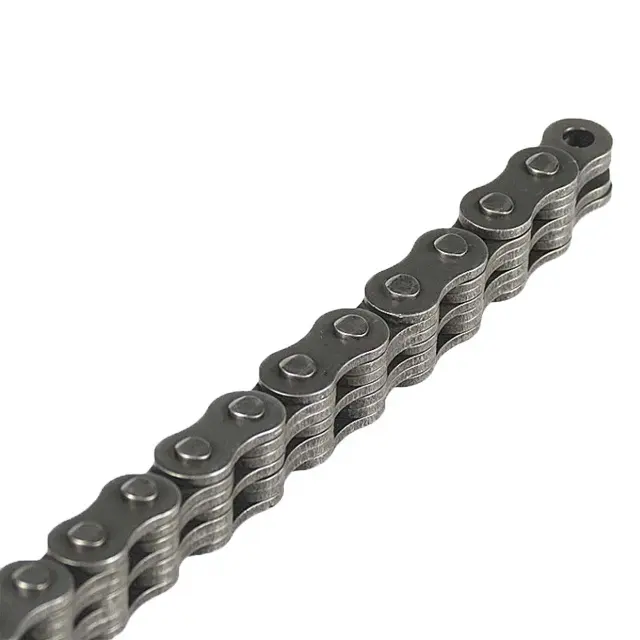 How do leaf chains handle lateral forces and side loads?
Leaf chains are designed to handle lateral forces and side loads efficiently, making them suitable for applications where these forces are present. The construction of leaf chains contributes to their ability to withstand such loads.
The unique design of a leaf chain consists of interlocking link plates with specially formed barrels. When the chain is subjected to lateral forces or side loads, the barrels provide additional support and prevent the chain from bending or kinking.
Moreover, leaf chains have relatively large bearing areas on the link plates, which distribute the load evenly across the chain's width. This characteristic allows leaf chains to effectively handle forces coming from different angles, ensuring smooth and reliable operation in challenging environments.
Leaf chains are commonly used in applications that involve side pulling, lifting, or tensioning, such as forklifts, aerial work platforms, and various material handling equipment. The ability to handle lateral forces and side loads makes leaf chains a preferred choice in situations where other types of chains might not perform as effectively.
However, it is essential to ensure that the selected leaf chain is properly sized and adequately lubricated for the specific application to maximize its performance and longevity.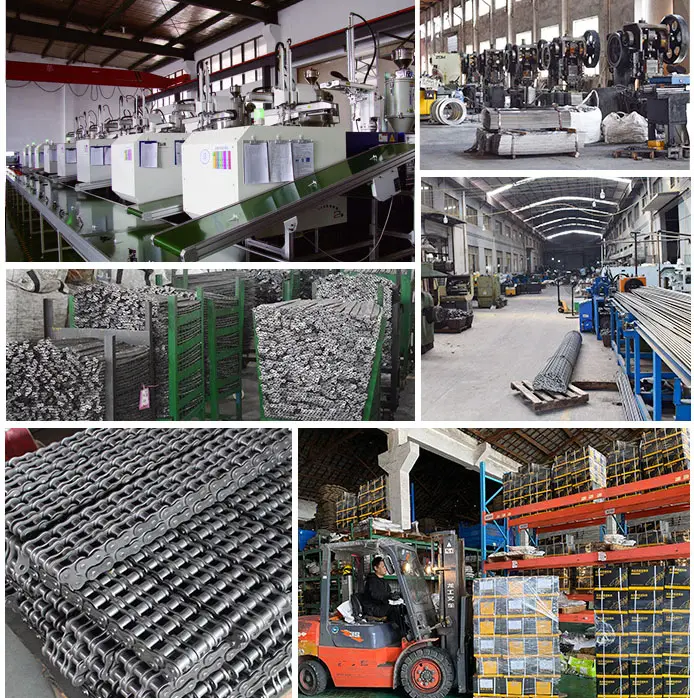 How do leaf chains handle extreme weather conditions such as rain or snow?
Leaf chains are designed to perform well in various environmental conditions, including rain and snow. However, their ability to withstand extreme weather depends on the material and surface treatment used in their construction.
Most leaf chains are made from high-quality alloy steel, which offers good resistance to corrosion and adverse weather conditions. Additionally, manufacturers may apply various surface coatings or treatments to enhance the chains' durability and protection against moisture.
Here's how leaf chains handle extreme weather conditions:
Corrosion Resistance: Leaf chains made from stainless steel or treated with corrosion-resistant coatings are better equipped to handle prolonged exposure to rain or snow. These chains are less likely to rust or corrode, ensuring their longevity in challenging weather environments.
Lubrication: Regular and proper lubrication of leaf chains can help protect them from moisture and reduce friction, even in wet conditions. Lubrication prevents the chains from seizing up and helps maintain their smooth operation.
Sealed Joints: Some leaf chain designs feature sealed joints or bushings that help keep contaminants, such as dirt, water, or snow, out of the chain's interior. This sealing minimizes the chances of foreign particles causing wear and damage to the chain components.
It is important to note that while leaf chains can handle rainy or snowy conditions, they may require more frequent maintenance in such environments. Regular inspections, cleaning, and lubrication will help ensure optimal performance and extend the lifespan of the chains.
When selecting leaf chains for applications exposed to extreme weather, it's essential to consider the environmental factors and consult with chain manufacturers or experts to choose the most suitable chain type and material for the specific weather conditions the chains will be exposed to.



editor by CX 2023-10-27