Product Description
Item
Leaf Chains
Application
Machinery Parts
Surface Teatment
Self-color/Sand-blasted/Shot-peening
Brand
OEM
Package
Poly bag, then box, finally poly-wooden case
Port
Any sea port or airport in China
Size
LH:
LH0822,LH0823,LH571,LH0844,LH0846,LH0866,LH 0571 ,LH1571,LH1571,LH1034,LH1044,
LH1046,LH1066,LH1088,LH1222,LH1223,LH1234,LH1244,LH1246,LH1266,LH1288,LH1622,
LH1623,LH1634,LH1644,LH1646,LH1666,LH1688,LH2571,LH2571,LH2034,LH2044,LH2046,
LH2066,LH2088,LH2422,LH2423,LH2434,LH2444,LH2446,LH2466,LH2488,LH2822,LH2823,
LH2834,LH2844,LH2846,LH2866,LH2888,LH3222,LH3223,LH3234,LH3244,LH3246,LH3266,
LH3288,LH4571,LH4571,LH4034,LH4044,LH4046,LH4066,LH4088
BL:
BL422,BL423,BL434,BL444,BL446,BL488,BL522,BL523,BL534,BL544,BL546,BL566,BL588,
BL622,BL623,BL634,BL644,BL646,BL688,BL822,BL823,BL834,BL844,BL846,BL866,BL888,
BL1571,BL1571,BL1034,BL1044,BL1046,BL1088,BL1222,BL1223,BL1234,BL1244,BL1246,
BL1266,BL1288,BL1422,BL1423,BL1434,BL1444,BL1446,BL1488,BL1622,BL1623,BL1634,
BL1644,BL1646,BL1666,BL1888,BL2571,BL2571,BL2034,BL2044,BL2046,BL2088
LL:
LL0622,LL0644,LL0666,LL0822,LL0844,LL0866,LL 0571 ,LL1571,LL1044,LL1066,LL1088,LL1222
LL1244,LL1266,LL1288,LL1622,LL1644,LL1666,LL1688,LL2571,LL2044,LL2066,LL2088,LL2422
LL2444,LL2466,LL2488,LL2822,LL2844,LL2866,LL2888,LL3222,LL3244,LL3266,LL3288,LL4571
LL4044,LL4066,LL4088,LL4822,LL4844,LL4866,LL4888
AL:
AL322,AL344,AL422,AL444,AL466,AL522,AL534,AL544,AL566,AL622,AL644,AL666,AL688
AL822,AL844,AL866,AL888,AL1571,AL1044,AL1066,AL1088,AL1222,AL1244,AL1266,AL1288,
AL1444,AL1466,AL1644,AL1666,AL1688
FL:
FL644,FL666,FL688,FL523,FL844,FL922,FL944,FL945,FL956,FL966,FL988
| | |
| --- | --- |
| Material: | Iron |
| Structure: | Leaf Chain |
| Surface Treatment: | Polishing |
| Chain Size: | P9.525-P76.20 |
| Feature: | Fire Resistant, Oil Resistant, Heat Resistant |
| Transport Package: | Poly Bag, Box, Poly-Wooden Case |
Samples:

US$ 10/Several Links

1 Several Links(Min.Order)

|
Request Sample
Customization:

Available

|

Customized Request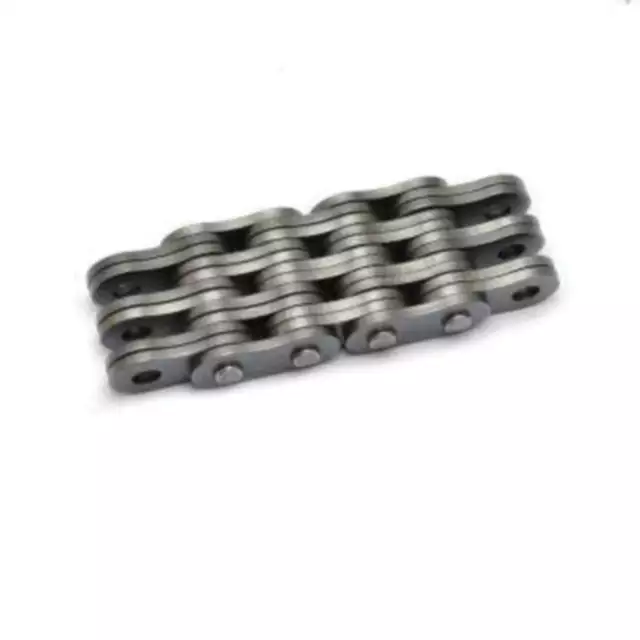 How do leaf chains perform in dusty or dirty environments?
Leaf chains are designed to perform well in dusty or dirty environments, thanks to their robust construction and self-lubricating capabilities. In such conditions, chain components are exposed to various contaminants like dust, dirt, and debris, which can potentially affect the chain's performance if not adequately addressed.
One of the key features that make leaf chains suitable for these environments is their simple yet durable design. With fewer moving parts and components, there are fewer areas for dirt and debris to accumulate, reducing the risk of chain jamming or clogging. The link plates of leaf chains are typically sealed to prevent contaminants from entering the pin and bushing joints, reducing wear and prolonging the chain's life.
Leaf chains often incorporate self-lubricating properties, such as oil-impregnated sintered bushings or sealed pins, which help to maintain proper lubrication even in dusty conditions. This self-lubrication minimizes friction between the chain components, reducing wear and ensuring smooth operation, even in dirty environments.
However, it is essential to perform regular inspections and maintenance to keep the leaf chains in optimal condition. Cleaning the chains and removing any accumulated dirt or debris, along with proper lubrication, will help extend their service life and maintain their performance in dusty or dirty environments.
In summary, leaf chains are well-suited for use in dusty or dirty environments due to their simple and robust design, self-lubricating capabilities, and resistance to chain jamming or clogging. Proper maintenance is crucial to ensuring their reliable performance in such conditions.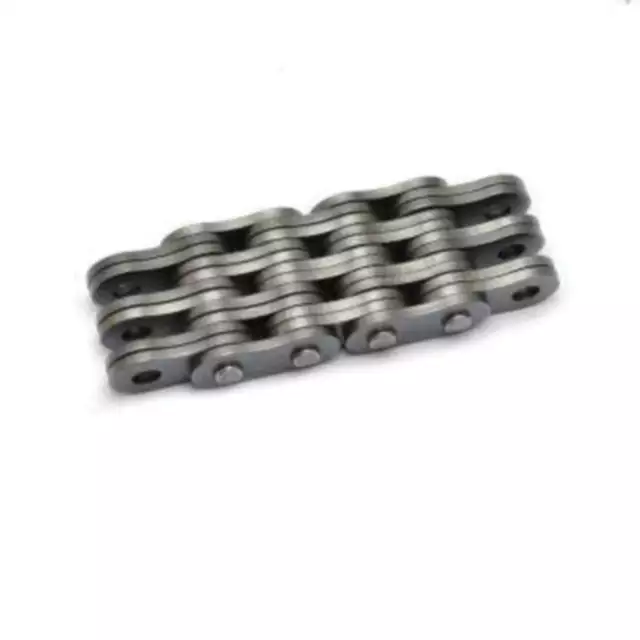 What are the safety certifications and standards for leaf chains?
Leaf chains used in lifting and rigging applications are subject to various safety certifications and standards to ensure their reliability and performance. Some of the common safety certifications and standards that apply to leaf chains include:
ISO 4347: This standard specifies the requirements and test methods for leaf chains for general lifting applications. It covers dimensions, strength, and performance characteristics to ensure safe usage.
ASME B29.8: The American Society of Mechanical Engineers (ASME) standard B29.8 covers leaf chains, including design, dimensions, and minimum performance requirements for leaf chains used in industrial applications.
EN 818: European Norm (EN) 818 defines the safety requirements for various types of lifting chains, including leaf chains, used in the European Union.
DIN 8152: Deutsches Institut für Normung (DIN) standard 8152 outlines the design and construction requirements for leaf chains used in lifting and materials handling.
CE Certification: Leaf chains, like other lifting equipment, may require CE certification to indicate compliance with European safety directives.
When selecting leaf chains for specific lifting applications, it is essential to ensure that they meet the necessary safety certifications and standards. Using certified leaf chains helps ensure the safety of lifting operations, reduces the risk of accidents, and provides confidence in the reliability and performance of the equipment.



editor by CX 2023-07-21