Product Description
M-A3 Leaf Pin Chain for Metallurgy and Steel Industry
All Everpower leaf chain pins are made of specially produced alloy steel and heat treated to improve surface hardness. Take great care to ensure that the core of the blade chain pin remains malleable, as this allows it to cope with repeated loads, install it inside the blade chain anchor, and fix it in place by the chain anchor pin. This method ensures the maximum number of shear planes and maximum tensile strength. Using the chain pin on the outer link of the leaf chain may cause serious bearing and safety problems.

Chain No.

Pitch 

P1 (mm)

Pitch

P2 (mm)

Combination type 

Inside plate hole DIA d (mm)

DIA of pin d2 (mm)

Length of pin L (mm)

Thickness of sidebar h (mm)

Height of sidebar h (mm)

Tensile strength Q (kN)

M-A3

60

90

4*5

25.15

25.1

284

30

50

1960

M-A3

60

90

6*7

25.15

25.1

372.5

30

50

2831
Related Products
We also supply sprockets to match your chains.
We specialize in the production of agricultural roller chains, flat-top chains, chains, hollow pin chains, beer filling and packaging line conveyor chains, paver chains, auxiliary sidebar lifting chains, bucket lifting chains (cement mill chains), forged scraper chains, automobile industry loading chains, metallurgical industry loading chains, mining machinery transport chains, trencher chains, sugar factory chains, double flexible chains, etc. Welcome to call and email for a consultation!
Contact us: We care about our valued buyers; if you have any questions, our Customer Service staff will gladly help you. We try our best to reply to your emails as soon as possible; however, due to the high volume of daily incoming emails and the time zone difference, we may not be able to reply immediately. Please allow 24 business hours for us to respond.
We are specialized in producing Agricultural Roller Chain, Flat Top Chain, Track Chain, Hollow Pin Chain, Conveyor Chain for Beer Filling and Packing Line, Paver Chain, Attachment Sidebar Elevator Chain, Bucket Elevator Chain (Cement Mill Chain), Forging Scraper Chains, Loading Chain for Automobile Industry, Loading Chain for Metallurgical Industry, Conveyor Chain for Mine Machinery, Trencher Chain, Sugar Mill Chain, Double Flex Chain, etc. Welcome calls and emails to inquiries!
Related Products
Company
| | |
| --- | --- |
| Usage: | Transmission Chain, Drag Chain, Conveyor Chain, Dedicated Special Chain |
| Material: | Iron |
| Surface Treatment: | Oil Blooming |
| Feature: | Oil Resistant |
| Chain Size: | 1/2"*3/32" |
| Structure: | Leaf Pin Chains |
Samples:

US$ 9999/Piece

1 Piece(Min.Order)

|
Request Sample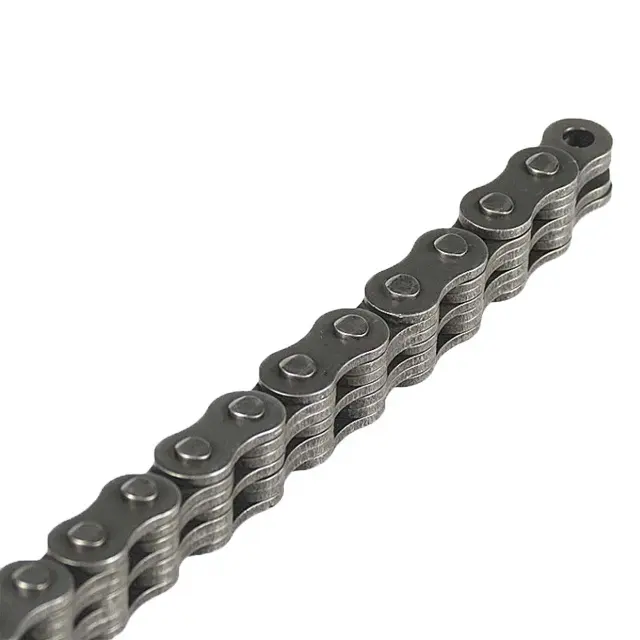 How do leaf chains handle lateral forces and side loads?
Leaf chains are designed to handle lateral forces and side loads efficiently, making them suitable for applications where these forces are present. The construction of leaf chains contributes to their ability to withstand such loads.
The unique design of a leaf chain consists of interlocking link plates with specially formed barrels. When the chain is subjected to lateral forces or side loads, the barrels provide additional support and prevent the chain from bending or kinking.
Moreover, leaf chains have relatively large bearing areas on the link plates, which distribute the load evenly across the chain's width. This characteristic allows leaf chains to effectively handle forces coming from different angles, ensuring smooth and reliable operation in challenging environments.
Leaf chains are commonly used in applications that involve side pulling, lifting, or tensioning, such as forklifts, aerial work platforms, and various material handling equipment. The ability to handle lateral forces and side loads makes leaf chains a preferred choice in situations where other types of chains might not perform as effectively.
However, it is essential to ensure that the selected leaf chain is properly sized and adequately lubricated for the specific application to maximize its performance and longevity.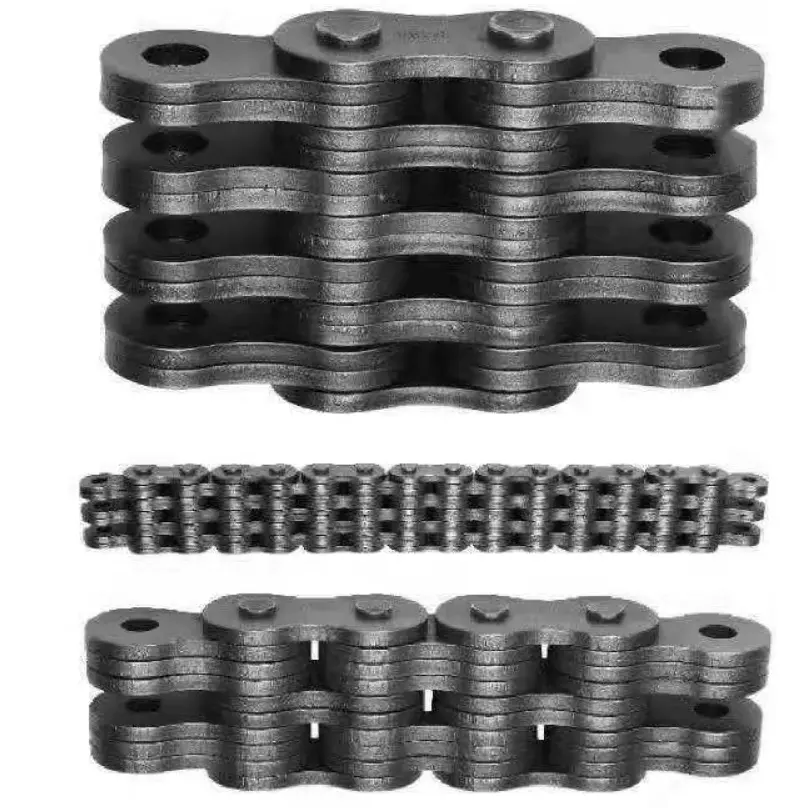 What are the benefits of using a leaf chain in waste management and recycling equipment?
Leaf chains offer several advantages when used in waste management and recycling equipment. These applications often involve heavy loads, continuous operation, and challenging environments, making leaf chains an excellent choice for such equipment. Here are the benefits of using a leaf chain in waste management and recycling equipment:
High Load Capacity: Leaf chains are designed to handle high loads, making them suitable for heavy-duty waste management equipment, such as balers, shredders, and compactors.
Resistance to Wear: Waste management and recycling equipment operate in abrasive conditions due to the presence of debris and recyclable materials. Leaf chains are made from durable materials and can withstand wear and tear, ensuring a longer service life.
Reliability: Continuous operation is often required in waste management and recycling processes. Leaf chains are known for their reliability, providing consistent performance under demanding conditions.
Compact Design: Leaf chains have a compact design, which is advantageous in space-constrained waste management facilities, where equipment needs to be efficient and easy to maneuver.
Cost-Effectiveness: Leaf chains offer a cost-effective solution for waste management and recycling equipment, providing excellent performance at a reasonable price point.
Resistance to Corrosion: Waste management and recycling environments can be corrosive due to exposure to moisture and chemicals. Leaf chains with appropriate coatings or materials can resist corrosion, ensuring longevity and minimizing maintenance requirements.
Leaf chains play a crucial role in the reliable and efficient operation of waste management and recycling equipment. However, regular maintenance, such as proper lubrication and inspection for signs of wear, is essential to ensure optimal performance and safety. Following the manufacturer's recommendations and guidelines for chain maintenance will contribute to the longevity and reliability of the leaf chain in waste management and recycling applications.



editor by CX 2023-07-20