Product Description
XIHU (WEST LAKE) DIS.HUA Chain Group is the most professional manufacturer of power transmission in China, manufacturing roller chains, industry sprockets, motorcycle sprockets, casting sprockets, different type of couplings, pulleys, taper bushes, locking devices, gears, shafts, CNC precision parts and so on. We have passed ISO9001, ISO14001, TS16949 such quality and enviroment certification
We adopt good quality raw material and strict with DIN, ANSI, JIS standard ect, We have professional quality conrol team, complet equipment, advanaced technology. In 1999, Xihu (West Lake) Dis.hua obtained ISO9001 Certificate of Quality Assurance System, besides, the company also devotes itselt o environmental protection, In2002, it also obtained ISO14001 Certificate of Environment Management System.
LEAF CHAINS INTRODUCTIONS:
Chain Type:
  ISO CHAIN No.                                       ANSI CHAIN NO.
LH0822—-LH4088                                 BL422—–BL2088
LL0822—-LL4888
AL322—–AL1688
FL644—-LF1866
F19V—–FLC1078
Chain plate lacing
2X2   2X3   3X4   4X4   4X6   8X8
Product name 
 ISO ANSI Leaf Chains Hoisting Chains
Materials Available
1. Stainless Steel: SS201, SS303, SS304, SS316, SS416, SS420
2. Steel:C45(K1045), C46(K1046),C20
3. Brass:C36000 ( C26800), C37700 ( HPb59), C38500( HPb58), C27200(CuZn37), C28000(CuZn40)
4. Bronze: C51000, C52100, C54400, etc
5. Iron: 1213, 12L14,1215
6. Aluminum: Al6061, Al6063
7.OEM according to your request
Surface Treatment
Annealing, natural anodization, heat treatment,  polishing, nickel plating, chrome plating, znic plating,yellow passivation, gold passivation,  satin, Black surface painted etc.
Products Available
sprockt chains, pulley, shafts(axles, spline shafts, dart shafts),gears (pinions, wheels gear rack) bearing, bearing seat,  bushing, coupling, lock assembly etc.
Processing Method
CNC machining, punch,turning, milling, drilling, grinding, broaching, welding and assembly
QC :
Technicians self-check in production,final-check before package by  professional Quality inspector
Size
Drawings
Package
Wooden Case/Container and pallet, or as per customized specifications
Certificate
ISO9001:2008 , ISO14001:2001,ISO/TS 16949:2009
Advantage
Quality first Service superior , Advanced equipment,Experienced workers,Perfect testing equipment
Lead Time
15-25days samples. 30-45days offcial order
| | |
| --- | --- |
| Usage: | Drag Chain |
| Material: | Alloy/Carbon Steel |
| Color: | Solid Color |
| Chain Pitch: | 12.7 15.875 19.05 25.4 31.75 38.1 44.45 etc |
| Structure (for Chain): | Plate Chain |
| Chain Plate Lacing: | 2X2 2X3 3X4 4X4 4X6 8X8 |
Customization:

Available

|

Customized Request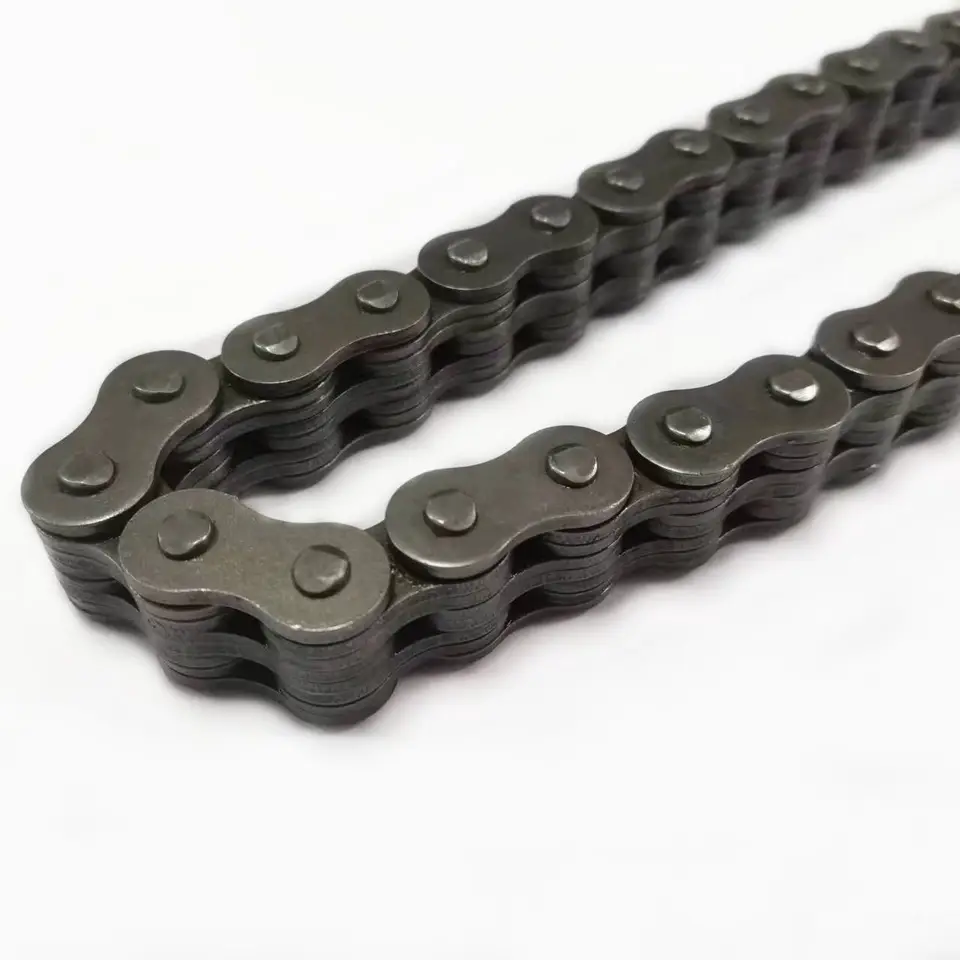 What are the environmental considerations when using leaf chains?
When using leaf chains, several environmental factors should be taken into account to ensure optimal performance and longevity:
1. Temperature and Weather Conditions: Leaf chains may be exposed to a wide range of temperatures, from extreme cold to high heat. Adequate lubrication and material selection are essential to prevent chain failure in extreme weather conditions.
2. Corrosion and Chemical Exposure: In environments with high humidity, moisture, or chemical exposure, leaf chains may be susceptible to corrosion and degradation. Choosing corrosion-resistant materials and regular maintenance can mitigate these effects.
3. Contaminants and Dust: Dust, dirt, and other contaminants can accumulate on the chain, leading to accelerated wear and reduced performance. Regular cleaning and lubrication are vital to prevent premature failure.
4. Load and Usage Patterns: Consider the load capacity and usage patterns of the chain in the specific environment. Heavy loads, continuous operation, and shock loads can impact the chain's wear rate and fatigue life.
5. Environmental Regulations: Some applications, such as those in the food or pharmaceutical industries, may have strict regulations regarding the materials and lubricants used in the chains to ensure they are safe for use in such environments.
6. Noise and Vibration: Certain environments may have noise and vibration restrictions. Proper chain maintenance and lubrication can help reduce noise levels and vibration.
7. Sustainability: Consider the environmental impact of chain materials and lubricants used. Opt for environmentally friendly options when possible to promote sustainability.
Overall, understanding the environmental conditions and selecting the appropriate chain materials and lubrication are crucial to ensure leaf chains perform optimally and have an extended service life in various applications. Regular inspection, maintenance, and compliance with environmental regulations will contribute to safe and efficient chain operation while minimizing the impact on the surrounding environment.
Can leaf chains be used in agricultural machinery for lifting and towing?
Yes, leaf chains can be used in various agricultural machinery for lifting and towing applications. The robust construction and high load capacity of leaf chains make them suitable for handling the heavy loads typically encountered in agricultural tasks. Here are some common agricultural machinery applications where leaf chains are used:
Tractors: Leaf chains are employed in tractors for lifting and towing implements, such as plows, harrows, and seeders. They provide reliable power transmission and ensure efficient operation in demanding agricultural fields.
Combine Harvesters: These machines are used for harvesting grain crops. Leaf chains are utilized in their lifting systems to handle the harvested crops and unload them into containers or trailers for transportation.
Balers: Balers are used to compress and bundle hay, straw, or other crops into compact bales. Leaf chains assist in the lifting and compressing mechanisms, ensuring proper bale formation.
Harvesting Equipment: Various harvesting equipment, such as forage harvesters and corn pickers, rely on leaf chains for lifting and towing functions during the harvesting process.
Silage Choppers: Silage choppers are used to chop and process silage for animal feed. Leaf chains are used to control the height of the chopper and manage the towing of trailers for silage transportation.
In these agricultural applications, leaf chains need to withstand outdoor environments, exposure to dirt, debris, and weather conditions. Regular maintenance, including lubrication and inspection, is essential to ensure the longevity and proper functioning of leaf chains in agricultural machinery.



editor by CX 2023-10-24